The Messages tab displays messages in relation to your account in a data grid.

Understanding the Messages tab
Messages Display
Unread messages will be displayed in bold and have the Mark as read button enabled. The Date and time the message was sent is included. The tab will display in a highlighted color if there are unread messages and indicate how many unread messages there are.

Right Click Menu
Right mouse clicking within the log display section opens the following menu: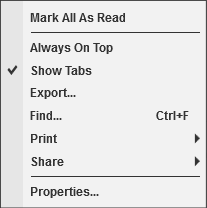 | | |
| --- | --- |
| Mark All As Read | Marks all unread messages as read |
| Always On Top | Sets if the window will be always on top of other windows |
| Show Tabs | Sets if the window should allow for tabs |
| Export | Exports the grid contents to "CSV" or "Excel" file format |
| Find... | Search for a term in the grid |
| Print | Select to print either the window or the log grid area. |
| Share | Select to share via your share connections. |
| Properties... | Configure the positions grid properties |