Hello,
I found that 2 very simple but usefull features are missing to NinjaTrader
1)
the quick change feature allowing to swith timeframe/bartype by typing text within the chart does not allow to setup or customize bar types or times frames shortcut
Say I imported a custom bar type for NinjaTrader, I should be able to assign to it a letter so that if I type on the chart for exemple for 5X, the chart switches to this new timeframe/bar type like it does when you type 5M to switch to 5 minutes chart.
Also, defaut letter assignement should be customisable easily.
All this could be achieved easily by adding just one parameter line more on the DataSeries window. Please have a look.
This way, when you type within the chart, you could select existing AND new timeframes/bar types the way you really want...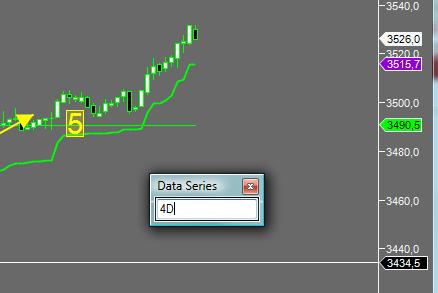 2)
The same way, you could also add a parameter line within the DataSeries panel again to decide if yes or no the desired timeframe/bar type can be selected within the "quick change" contextual menu of the Toolbar of the chart
Achievement : the user can now build a custom quick change contextual menu from the Toolbar with the timeframes / bar types he really uses on a habit basis and nothing fancy he never uses !!
In this exemple, only 1 Minute, 5 Minute and Daily are kept, and "4 Range" is added...