Level II (Market Depth) Display
The Level II panel displays bid and ask market depth data color coded by price. The Level II display can be enabled/disabled by right mouse clicking inside the Level II display and selecting the menu item Show Level II.
Column Definitions
| | |
| --- | --- |
| Price | The bid or ask price. The bid data is shown in the left section and the ask in the right. |
| Size | The number of lots at that price level available for buy or sell (represented in short hand notation where M represents 1,000,000) |
| Time | The last time the bid/ask was refreshed |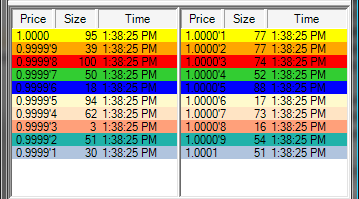 * If a price is at a sub pip level, the sub pip value is displayed as a value after an apostrophe as per the following example where the sub pip is highlighted in red.
Example: 1.4115'5 (The price is at 1.4115 pips plus 5 sub pips which is 5/10 of a pip)