Adding Commission Templates
The Commissions window includes several pre-built Commission Templates, based on the currently available NinjaTrader software license types. Additional templates can be set up by clicking the add button at the bottom of the "Templates" section of the window. A new template will be created with a default name, and specific commissions can then be saved for the template using the steps in the sections below.
Once a new template has been added, you can edit it's name by selecting it in the list in the "Templates" section, then entering a name in the "Name" field within the "Properties" section.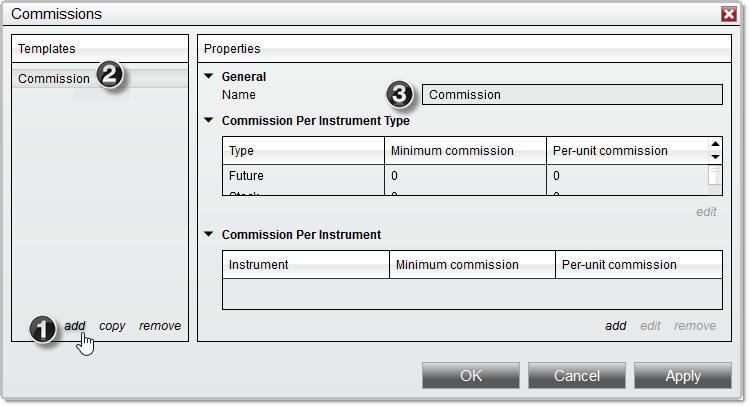 1) The add button is clicked
2) A new template with a default name is added to the list
3) The template name can be changed in the "Properties" section
Copying Commission Templates
There may be an instance in which you need to maintain two copies of a Commission Template with a few small differences between the two. Rather than creating a second version from scratch, you can copy an existing template in the Commissions window, then make any needed changes to the new copy. To do this, first select a template in the list of configured templates, then click the copy button. A new copy will appear in the list, allowing you to make any necessary changes.
Removing Commission Templates
To remove a Commission Template, first select one in the list of configured templates, then click the remove button.