Panel Scales
When adding a Data Series or Indicator to a chart, you can set the Scale justification property to align the chart object to any of the following scales within the Panel:
•Left
•Right
•Overlay
With the exception of the Overlay scale, a price scale will only be displayed in a Panel if there is one or more chart objects justified to it. The Overlay scale does not have a visible price scale however, any chart objects justified to this scale will display their price markers first on the Right scale if one exists otherwise they are displayed on the Left scale. All scales can be shared by multiple chart objects.
Tip: In addition to changing a chart objects scale justification property via the Data Series window or Indicators window, you can drag and drop a chart object onto different scales. Please see the section "How to drag and drop chart objects" section located on the Working with Chart Objects topic page.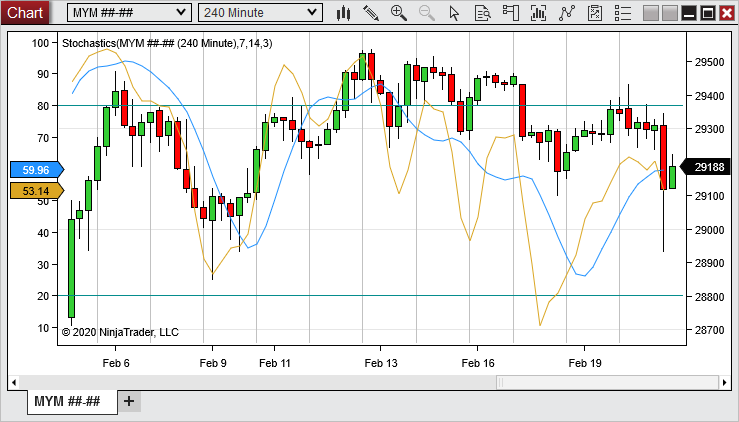 The image above depicts the continuous ES futures contract justified to the Right scale and a Stochastics indicator justified to the Left scale within the same Panel.
Panel Context Menu
Right mouse click within the price scale to access the panel context menu.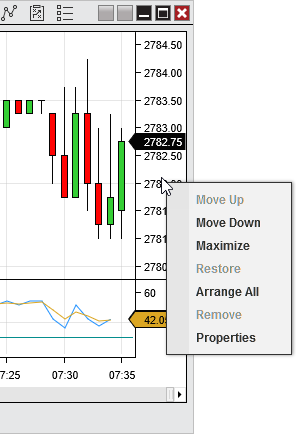 The following actions are available:
| | |
| --- | --- |
| Move Up | Moves the panel up by one |
| Move Down | Moves the panel down by one |
| Maximize | Maximizes the panel |
| Restore | Restores the maximized window to the original size |
| Arrange All | Arranges all panels to default proportions |
| Remove | Deletes the panel from the chart |
| Properties | Opens the panel properties window |
Maximized panel display
Selecting Maximize from the panel context will change selected panel to be the only displayed panel on the chart tab. Using the left facing arrow "<" or right facing arrow ">" will navigate through each panel on the chart in a maximized display. Selecting the "M" button will restore the panels to their original default display.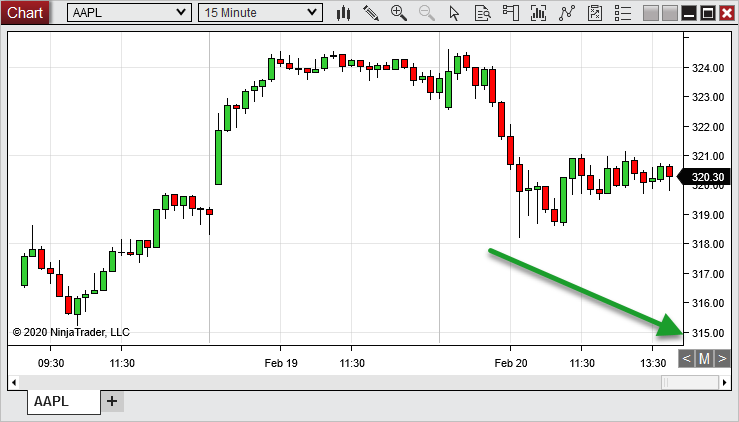 The image above depicts the continuous ES futures 1-minute Data Series panel which has been Maximized and displays the controls available to navigate through a maximized panel display.