The following section covers how to open a NinjaTrader chart.

How to open a new chart
Opening a New Chart
To create a new chart, select the New menu from the NinjaTrader Control Center, then select the menu item Chart. The Data Series window will open where you can choose an instrument and an optional Template to apply to the chart. Please see the "Working with Price Data" page of the Help Guide for more information.
NinjaTrader does not limit the number of chart windows that can be opened, however more open windows will require more PC resources. Please see the Performance Tips page for more information on improving PC performance.
Selecting an Instrument
Once inside the Data Series window, there are multiple ways to choose an instrument. You can select an instrument from the available instrument lists, type the instrument symbol into the empty instrument field and press the enter key, or use the instrument lookup window by pressing the magnifying glass button next to the instrument field. Please see the "Working with Price Data section of the Help Guide for more information on selecting instruments.

Understanding the chart display
Chart Display Overview
Each NinjaTrader chart is a free floating window that can be manually resized by dragging the edges of the window for arrangement within the open Workspace.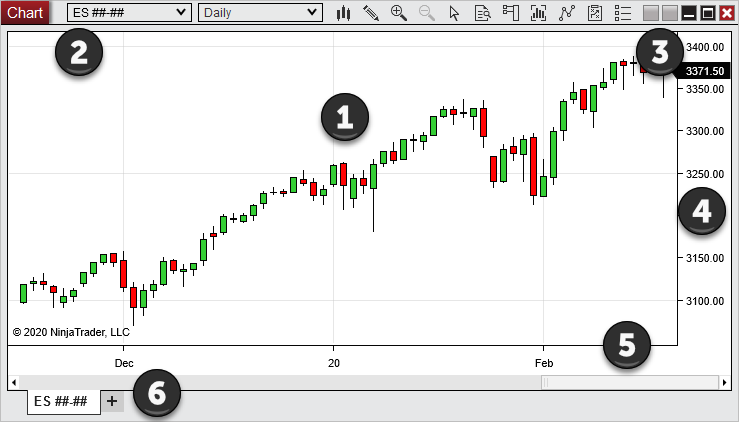 The chart image displays some of the common features you will see inside a NinjaTrader chart window:
| | |
| --- | --- |
| 1. Chart display area | Main display area of a chart where all chart objects (Data Series, Indicators and Drawing Objects) are plotted. |
| 2. Chart tool bar | Access to chart features. Can be enabled or disabled via chart properties. |
| 3. Link buttons | Window linking links windows to use the same instrument and can be applied to many NinjaTrader windows. |
| 4. Price markers | Displays current price and indicator values in the left or right scale. Can be enabled or disabled on a per chart object basis through the Data Series or Indicators window. Drawing tool objects do not have price markers. |
| 5. Horizontal scroll bar | Scrolls the horizontal axis left and right. (See the "Navigating a Chart" section of the Help Guide for more information.) Can be enabled or disabled via chart properties. |
| 6. Chart Tabs | Displays the tabs enabled in the chart window. Tabs can be switched by clicking any configured tab with the left mouse button. |