News sent from the connectivity provider is displayed in the News window. Alerts and filters can be configured based on keywords in the news headline.

Understanding the News Window
News Window Display
The News window give you the ability to:
1.Filter news based on individual instruments or instrument list
2.Setup user defined Keyword filters
3.View a list of real-time news headlines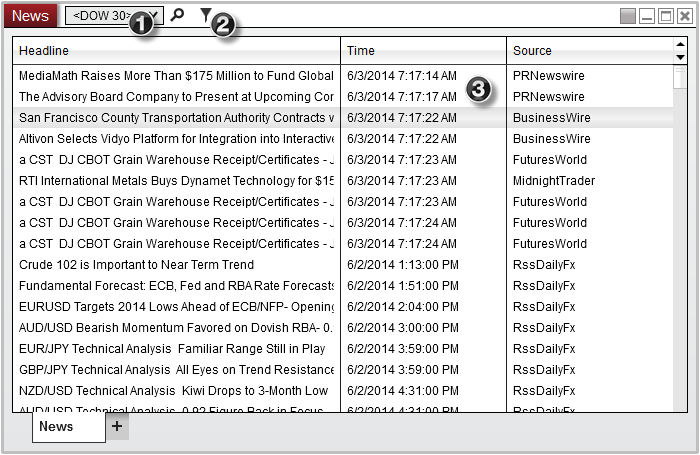 Reading Pane
And optional Reading Pane can be enabled below the list of real-time news headlines by right clicking on the News window and selecting Show Reading Pane.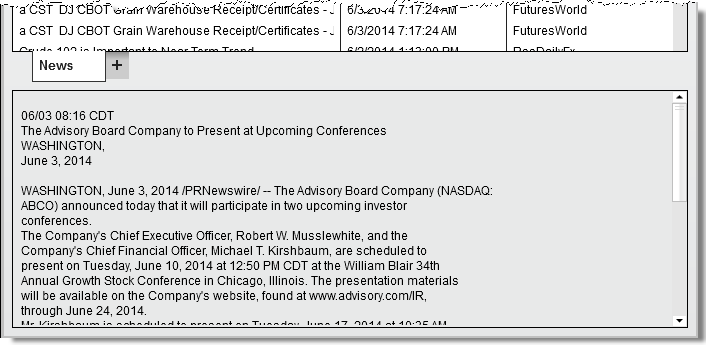 Headline Window
Double clicking on a headline will open the Headline Window which will display the content of the news article.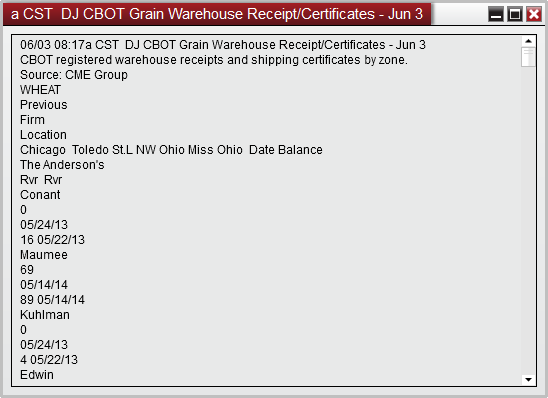 Note: For the News window to populate information, you must be connected to a data provider that supports real-time news. See the Data by Provider section for information on what providers support news.

How to create a filter condition
Creating a Filter Condition
The News window gives you the ability to filter News Articles based off of user-defined Keywords
To enable this type of conditional filtering:
1.Select the Filter Icon

from the News window
2.From the Filter window, insert the Keywords you wish to filter (multiple keywords can be separated by commas)
3.Optionally uncheck any Sources you may wish to exclude from your results
4.Press OK

Filtering on specified instrument(s)

How to create an alert on news article
An alert will visually and audibly notify you when a new article is received.
Enabling News Alert
To turn on/off the Alerts feature:
Right click on the News window and check or uncheck Alert on New Article
You can customize the sound file, priority, and colors of the Alerts which are generated from the News Properties
Alerts will be sent to the Alerts Log window