Downloading Market Replay data for the Playback connection
Market Replay data holds the exact sequence level I and Level II (market depth) data. NinjaTrader offers a limited amount of Market Replay data free to download for playback purposes. Only the most common instruments are currently available.
Notes:
1.Enable market recording for playback must be disabled from the Market Data category of the Options menu before downloading replay data.
2.Downloading Market Replay data is NOT available when connected to the Playback connection. You must disconnect from Playback connection prior to downloading.
To download playback data:
1.Select the Tools menu in the Control Center, select the menu item Historical Data and select "Load" tab. Here the section "Get Market Replay data" can be expanded.
2.Select the instrument and date of the desired replay data and press the OK button to begin the download.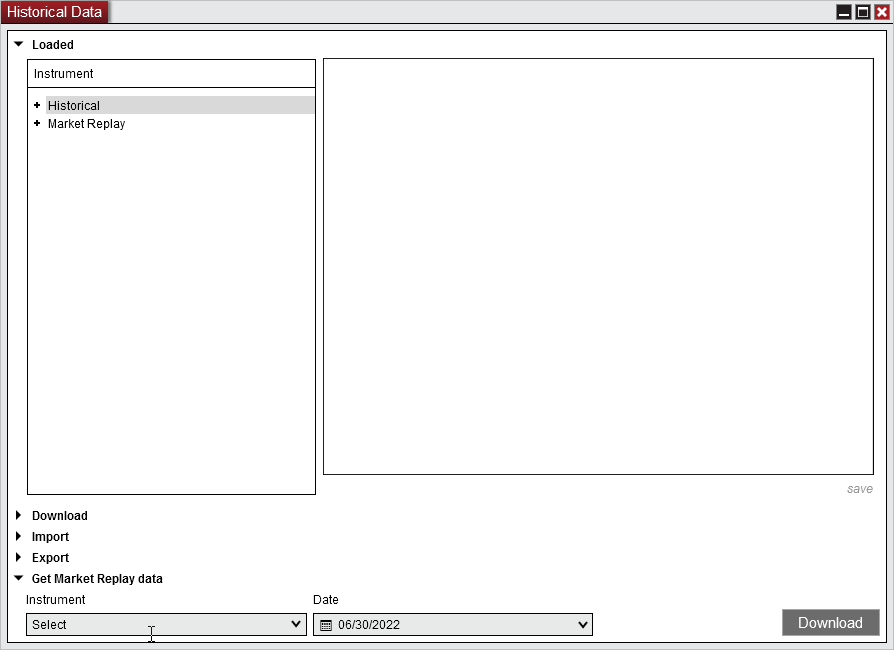 The status of the download will appear in the lower right hand corner of the Historical Data Window.
Downloading historical tick data for the Playback connection
If Market Replay data is not available, or you do not need the accuracy that Market Replay data provides, you can optionally use playback using historical tick data offered from your data provider. You can download, export, import historical tick data via the Historical Data Window.