Using Tab Name Variables
Tabs throughout NinjaTrader allow for the use of pre-defined variables which will dynamically populate tab names with relevant labels, such as the instrument name, period, or account selected in the tab. To use one of the variables listed in the table below, first open the window's Properties dialogue, then enter your chosen variable in the "Tab Name" field.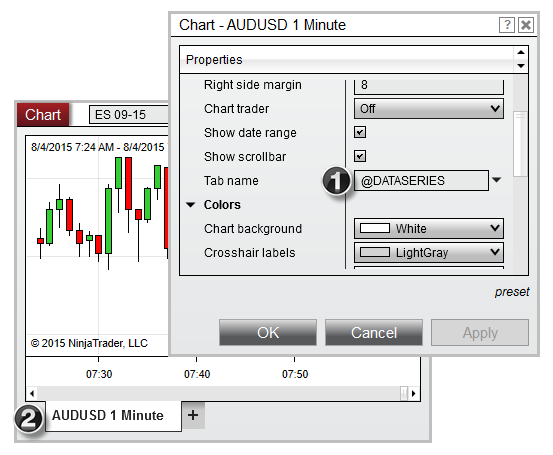 1) The variable "@DATASERIES" has been entered in the "Tab Name" field of the Chart Properties window.
2) The "@DATASERIES" variable populates the instrument full name and period in the selected tab.
Notes:
•These variables are case sensitive, meaning that "@instrument" is not the same as "@INSTRUMENT."
•More than one variable can be used together in a single tab name. For example, using "@FUNCTION @ACCOUNT" would list the tab's function and selected account together.
| | | |
| --- | --- | --- |
| Variable | Value | Applicable To |
| @INSTRUMENT | Displays the name of the primary instrument displayed in the tab | Level II, Time & Sales, Basic Entry, FX Board, FX Pro, SuperDOM, Order Ticket, Charts |
| @INSTRUMENT_FULL | Displays the full name of the primary instrument displayed in the tab (adds the expiry for futures contracts) | Level II, Time & Sales, Basic Entry, FX Board, FX Pro, SuperDOM, Order Ticket, Charts |
| @INSTRUMENT_ALL | Displays the names of all instruments displayed in the tab | FX Board, Charts |
| @INSTRUMENT_FULL_ALL | Displays the full name of all the instruments displayed in the tab (adds the expiry for futures contracts) | FX Board, Charts |
| @PERIOD | Displays the period configured on the primary instrument in the tab | Charts |
| @PERIOD_ALL | Displays the periods configured for all instruments in the tab | Charts |
| @ACCOUNT | Displays the account selected in the tab | Control Center (Account, Executions, Orders, Positions, Strategies Grids), Basic Entry, FX Board, FX Pro, SuperDOM, Order Ticket, Charts |
| @FUNCTION | Displays the function of the tab (examples: "Chart" or "Log") | All Tabs |
| @ATM | Displays the selected ATM Strategy in the tab | Charts |
| @DATASERIES | Equivalent to "@INSTRUMENT_FULL @PERIOD" for the primary instrument in the tab | Charts |
| @DATASERIES_ALL | Equivalent to "@INSTRUMENT_FULL @PERIOD" for all instruments in the tab | Charts |