Label rows are user defined and can be used to separate groups of instruments in any way (by asset class, instrument list, etc.).
Adding Label Rows in the Market Analyzer Window
Press down on your right mouse button inside the Market Analyzer window and select the menu Add Label Row. Once the Label row is added you can type in any user defined name.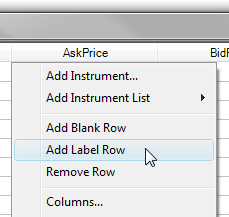 Dynamic Sorting within Label Rows
Instruments you drag or add under a Label row will "auto-sort" with only the other instruments under the same Label row. For example, if you have one Label row for futures and one for stocks, when you sort the columns, the instruments listed under the futures label would be sorted only against other instruments under the futures label, while instruments under the stocks label would be sorted only against instruments under the stocks label. For more information on ranking and sorting within the Market Analyzer see the Dynamic Ranking and Sorting section of the user help guide.
Aligning a Label Row
The label of a Label Row can be aligned to the left, center or right of the row. This is done by right mouse clicking within the Market Analyzer and selecting the Properties menu. Change the property Alignment to either "Left", "Center", or "Right".