Drawing on a Chart
Using the various Drawing methods, you can draw lines, text, squares and more on a chart. You can review detailed information on supported drawing methods in the NinjaScript Language Reference section of this Help Guide.
Following is an example and represents one of many possible combinations.
1. Expand the Drawing category and select Diamond
2. Set the Bars ago parameter to "0" which will draw the diamond on the current bar x location
3. Set the Color parameter to any desired color
4. Set the Tag parameter with a user defined name that identifies this drawing object. Providing a tag is of value if you are going to draw more than one of the same draw type object (Diamond in this case) on the same bar. Per default the builder will set this to the script name plus the draw object type, pressing the "set" button will display the String Builder window that would let you customize this further.
5. Set the Y parameter to the "High" of the current bar plus one tick by pressing the "set" button (not seen below, but same concept as in step 4) to display the Value window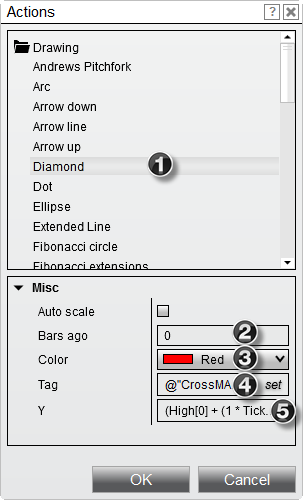 Once the OK button is pressed, an action is created that would translate to the following:
"Draw a red diamond above the high of the current bar plus one tick"
If you want to further customize the drawing object tag's used, then the String Builder will offer the following :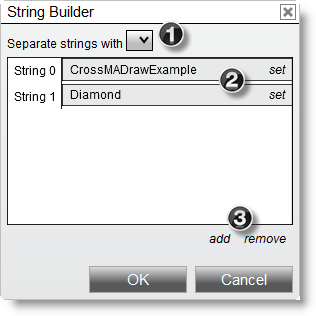 1. Select your string separator here, possible values are - ; : or blank (which is the default)
2. Enter custom text, or items from the Value window in the String fields
3. Press the "add" or "remove" buttons to add new string fields in or remove any of the currently added ones, the last filed will stay in any case, as a tag is needed for the object created.
For example if we added a 3rd string field in and added the Current bar from the Value window misc category, our drawing object would plot on each occurrence of the condition, so also for any historical triggers.