Condition Builder
Most if not all automated trading system code wizards are limited in scope in that they provide canned predefined expressions and only allow you to change a few parameters on those expressions. The NinjaTrader Condition Builder is advanced in that you can develop powerful expressions without limitations. Due to its power and flexibility, it is extremely important that you read through and understand its capabilities.
The Condition Builder is also a very powerful aid for those of you learning NinjaScript or learning how to program. You can build your conditions within the Condition Builder and instantly see NinjaScript code generated by having the NinjaScript Editor open (by pressing the View Code... button in the Builder screen).
The Condition Builder can be accessed via the Conditions and Actions screen in the NinjaTrader Strategy Builder.
Basic Operation
The general concept of the Condition Builder is to generate a Boolean expression also known as comparison expressions or conditional expressions. What does that mean? It is simply an expression that results in a value of either TRUE or FALSE. For example, the expression
2 < 7 (2 is less than 7)
is a Boolean expression because the result is TRUE. All expressions that contain relational operators are Boolean. Boolean expressions or "Conditions" as they are known in NinjaTrader is used to determine when to take a specified action such as submitting an order or drawing on the chart.
Looking at the image below, you can instantly see that the Condition Builder is set up like a Boolean expression. Select an item from the left window (1), compare it to a selected item in the right window (1) and then select the relational operator (2).

1. Available items such as indicators, price data, etc. to use for the comparison
2. List of relational operators
Relational operator invalid comparisons
Since the relational operator will let you select any items from the left to compare to the right in the Condition Builder, you need to be mindful what you attempt comparing. For example comparing a price based value like the DEMA indicator value to the Misc category Falling would not be possible, and prompt the Condition Builder to issue an error like shown below -
"Type of left expression and right expression do not match, please select similar expressions"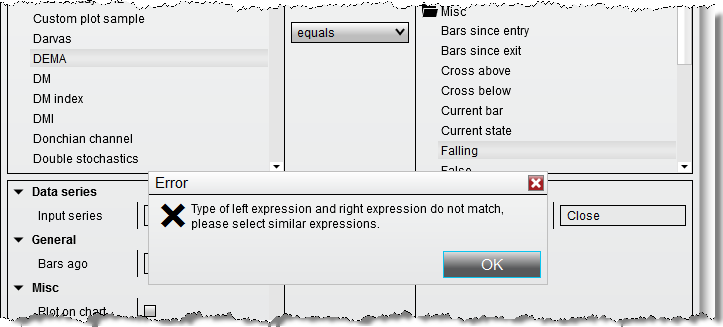 To work around, you would need to select expressions with a similar return value that would allow for a programmatic comparison. In the example used above, the DEMA indicator provides a double value in return that is attempted to be compared to a boolean (true / false) value, which Falling would return.
The correct approach is shown below, the DEMA indicator would be passed into Falling as input series and then the return value could be compared to True from the Misc category to create a successful condition.