Modifying entry and exit orders
Pending orders in NinjaTrader may be modified by clicking to select the order and clicking once more at the new price point. This approach is more effective than drag and drop because it eliminates the potential errors made by accidentally letting go of your mouse button and dropping an order on the wrong price.
1.Click using your left mouse button on the order you wish to modify.
2.Once selected, you will see the cursor change to a hand from an arrow, then choose the price you are modifying the order to and click using your left mouse button to complete the modify process.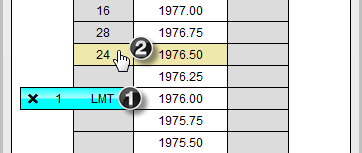 The left mouse button is used to modify the price of limit, stop-market, stop-limit, and MIT orders. You can cancel out of a price modification (remove the hand cursor) by pressing the ESC key.
You can also increase or decrease the price of an order by pressing down on the right mouse button with the mouse cursor hovering over the order, which will display all orders consolidated at that price. You can then select any individual order to increase price or decrease price in one tick increments