Performance Enhancements
•Upgraded to the latest Microsoft .NET 4.8 runtime environment
•NinjaTrader 8 core and UI is now fully multi-threaded, which adds significant performance increases across the entire platform
•Connectivity adapters now run in their own thread, which permits these events to run independent of the main application thread
•Changed the way data is saved in the database resulting in significant performance enhancements
•Replaced the Windows Forms UI with Windows Presentation Foundation (WPF), allowing us to take advantage of the latest UI concepts and models
•Improved optimizations in terms of open workspaces resources for efficient CPU usage
•Significant improvements on Strategy Optimization, resulting in 10x performance gains in our benchmarks
•Added support for concurrent historical bar requests, greatly improving data load time compared to NinjaTrader 7
New Tabbed Interface
We developed a new tabbed interface which is available from all trading and market analysis interfaces, optimizing the amount of screen real estate and the number of workspaces used to monitor and trade several markets at a time. Tabs can be dynamically named based on the Tab Content, such as Instrument Names, Accounts, ATM Strategies, and more, or with custom user-defined text. Existing tab content can also be duplicated into a new tab or into an entirely new window. Tabs can optionally be disabled on any individual window in order to maximize the display.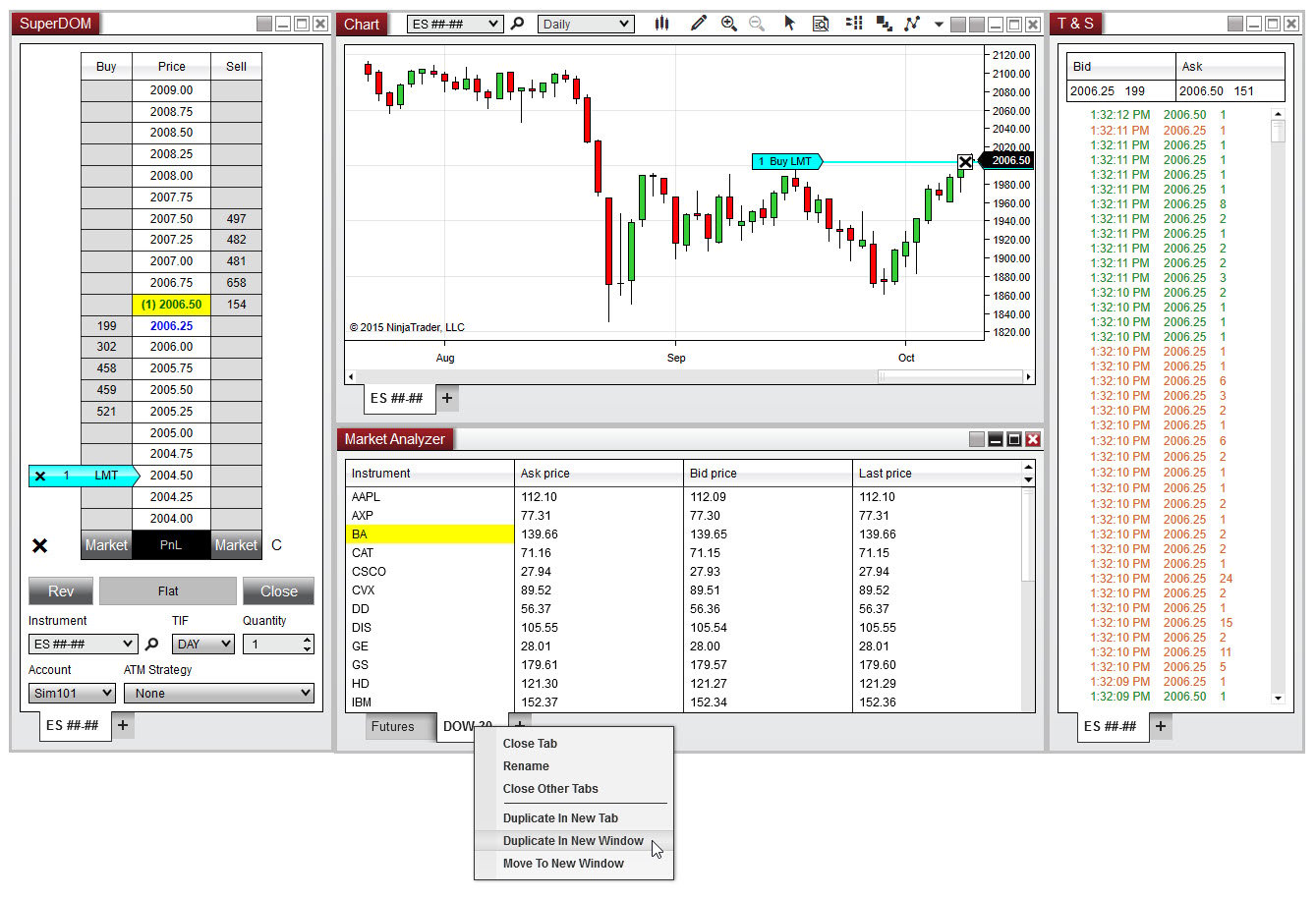 New "Attach Orders to Indicators" Feature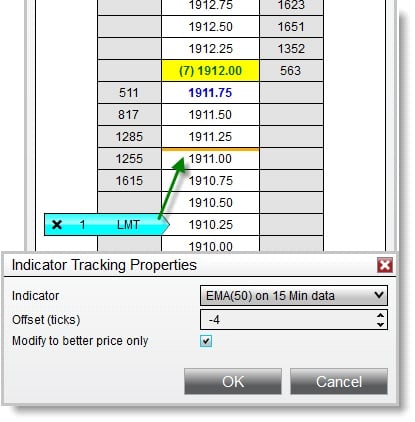 We introduced a new hands-free trade management concept which allows you to attach manual orders placed via Chart Trader or the SuperDOM to indicators, so that the orders will automatically follow the indicator values as they change. Configure your favorite indicator, such as an EMA, and watch as your working orders are modified to follow the price of the indicator precisely on each tick, on price change, or on bar close. Available for both manual entry and exit orders as well as ATM Strategy Stop Loss and Profit Target orders.
•No programming needed and defined completely through the user-interface
•Configure a tick offset to track changes below or above the indicator value
•Option to determine should the order modify to a better price only, or alternatively follow price change in either direction
New Instrument Overlay Selector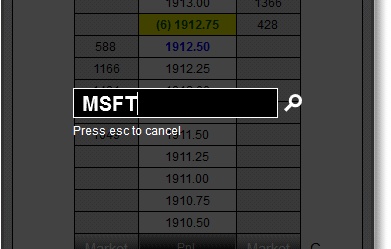 Instant instrument switching has been added to all trading and trade-analysis windows, significantly reducing the time it takes to switch an interface from one market to the next. This feature also includes a quick search button to easily navigate to the Instrument Window to look up instruments directly from the Instrument Overlay Selector. Simply start typing into any active window, and the Instrument Overlay Selector will automatically appear.
New Order Ticket Window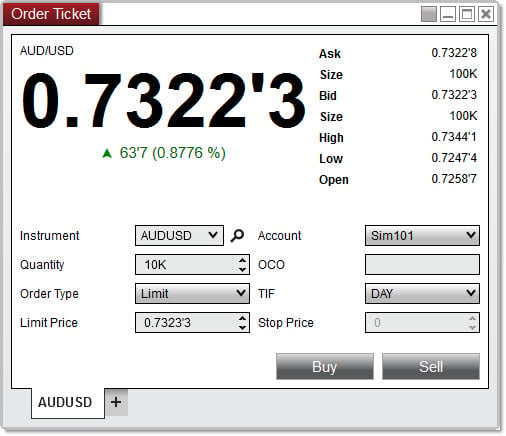 We designed a new Order Ticket Window which replaces the Order Entry panel from the Control Center Orders Tab. This interface is designed to work with all supported order types and includes an option to close the Order Ticket window after order submission to help keep your workspace clean.
New Account Data Window
Designed as a sister window to the Control Center, the new Account Data window works as a supplementary account data display feature giving you the ability to organize multiple tabs or windows for better account tracking and management. Tabs can be duplicated from the Control Center to a new Account Data window, which performs user defined filtering based on connected accounts. You can filter each window or tab independently, allowing multiple windows and tabs to show data for individual accounts, including Orders, Strategies, Executions, Positions and Account Balances.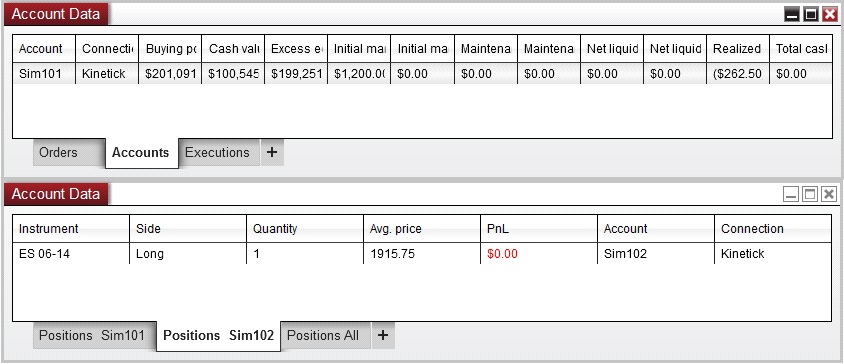 Streamlined Instrument Management
The methods used to manage instruments in NinjaTrader 8 have been renovated to evolve into a much more mature system.
We've introduced the flexibility to pull instrument updates directly from our servers, ensuring users always have the latest broker and data feed symbol mapping, as well as any other exchange mandated changes, such as exchange hours and rollover dates. Any custom changes made by the user will not be impacted by server changes, which give users the flexibility to customize their own local instrument database, unless they optionally select to reset these settings to the latest server defaults.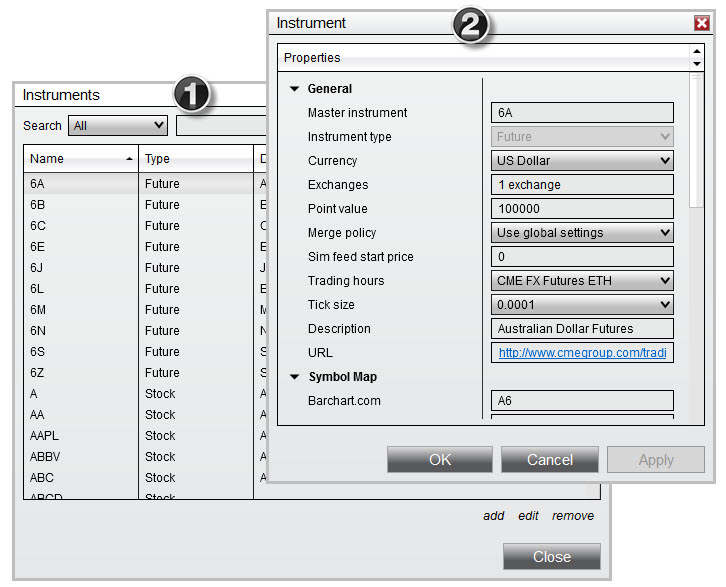 The Instrument Manager Window

and Instrument Editor

were both modernized and simplified.
•Auto search while typing, streamlining the search process
•Added multi-select capability to allow for bulk editing and management of instruments
•Multi-select available to interfaces which would support multiple instruments, such as the Market Analyzer which allows for faster selection of desired instruments
New Instrument Lists Window
We designed a new menu for improved management of Instrument Lists. The multi-select feature allows you to dynamically add, edit, or remove multiple instruments to a list at once.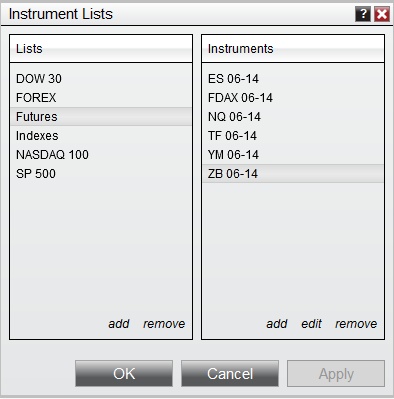 New Sharing Services
We've added an application-wide interface to share NinjaTrader 8 content via various social-media outlets. Users can share custom messages, images, and other content of any window, chart, or grid using the Share interface accessible from the right-click menu in any window. Services for Twitter, Stocktwits, and Email come pre-built, and NinjaScript developers can build their own Service through NinjaScript.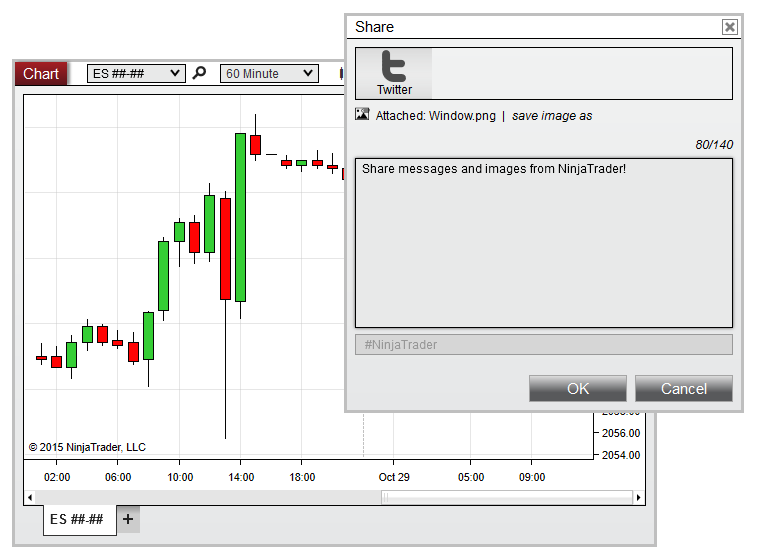 New Sub-Second Granularity
Market data time stamps are now processed and stored to the .NET 'Tick' which is the equivalent of 100 nanosecond resolution, allowing for much finer granularity when timing orders and working with price data.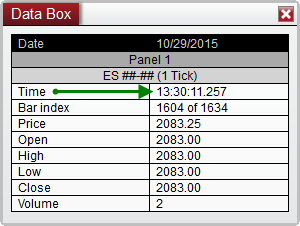 New Historical Bid/Ask Data Per Tick
Historical Bid/Ask data is now stored with each last trade tick data. For NinjaScript developers, you can now add data series with a Bid or Ask price type into your indicators or strategies, allowing you to access historical Bid/Ask data per tick.
Control Center
We have redesigned the NinjaTrader 8 Control Center, which allows for quicker and more intuitive navigation, as well as a more efficient workflow. Connections and Workspaces menus have been moved directly to the Main Menu bar for easy access, and the Account Performance tab has been moved to its own dedicated Window (Trade Performance). In addition, the tabbed interface of the Control Center has been replicated across all trading and market-data windows, allowing for greater flexibility in comparing instruments or other data within a single window.

Enhanced Instrument Selector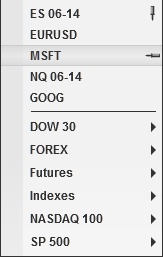 We updated our Instrument Selector to be standardized across all order-entry windows, and it now saves recently viewed instruments for quick access later. We also introduced a new feature to pin your favorite instruments to the quick-access list, replacing the former concept of a "default" instrument list. Likewise, we removed the requirement for the default instrument list, which means you can now access any custom list and your favorite instruments from any interface.
Application Options
•Improved "Sounds" preferences to allow users to add their own custom sound files
•Option for sounds to "Play consecutively," to prevent synchronized sound triggers from overlapping each other
•"Simulation Color" is now a global property, adding consistency to trading interfaces
•Enhanced the "Auto Close" feature to enable users to specify a list of instruments on which to close positions at a specific time
•Added "Confirm on Window/Tab Close" option, which will prevent the unintentional closing of windows
•Added support for multiple languages. German, Spanish, and Russian will be included at launch, with the ability to add more languages in the future
Application Skins
We've added the ability to apply different "skins" to customize the look of NinjaTrader 8. In addition to the five pre-built skins available in the platform, users can create their own custom skins for endless customizability of colors, margins, and other layout elements.
Light Skin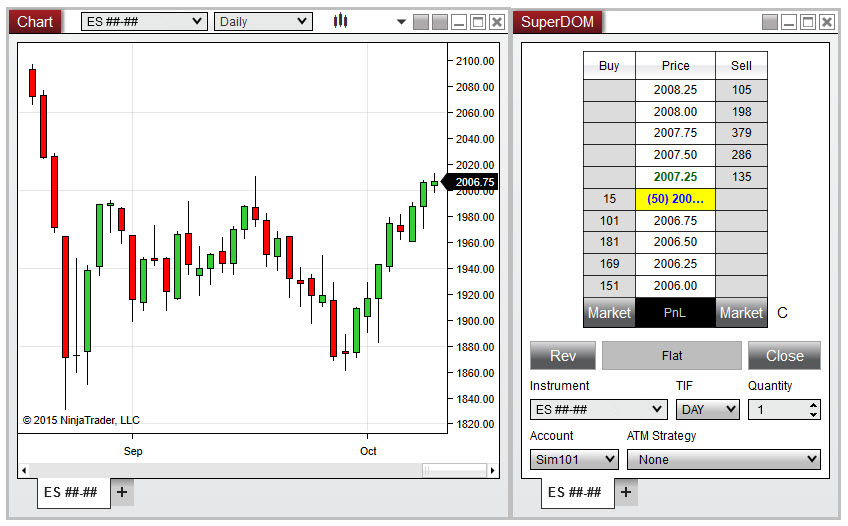 Dark Skin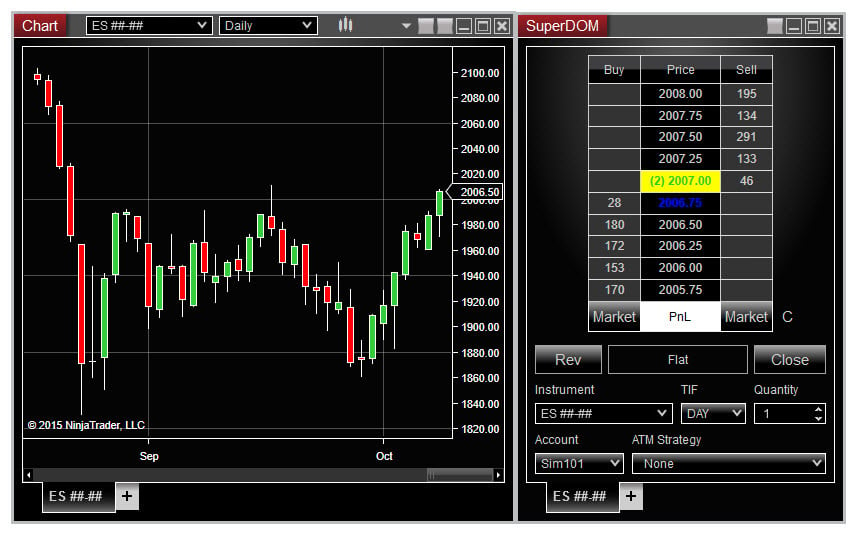 Slate Gray Skin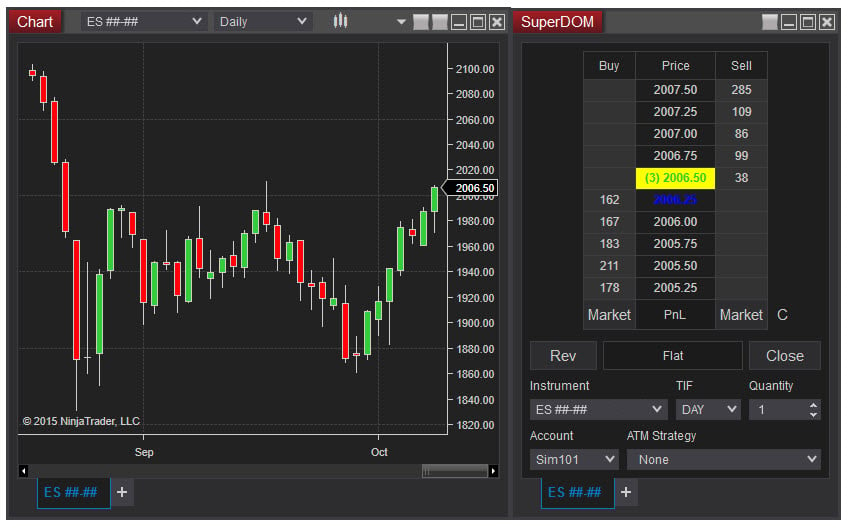 Slate Light Skin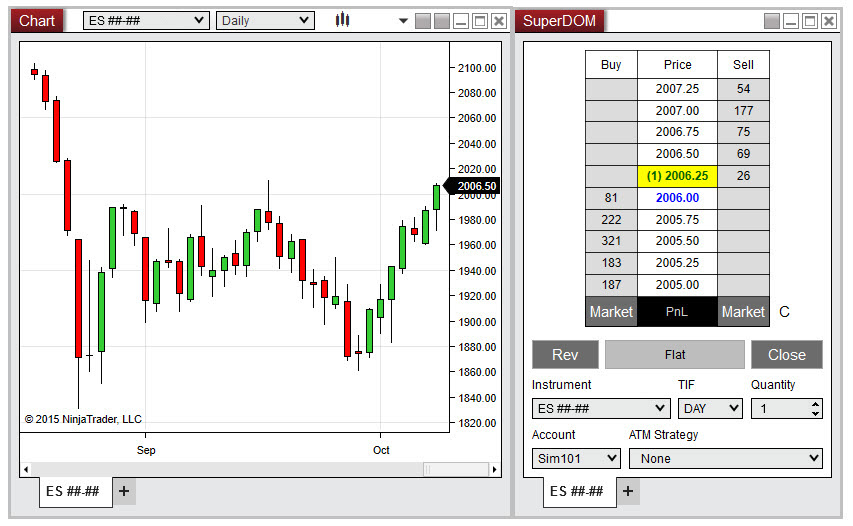 Slate Dark Skin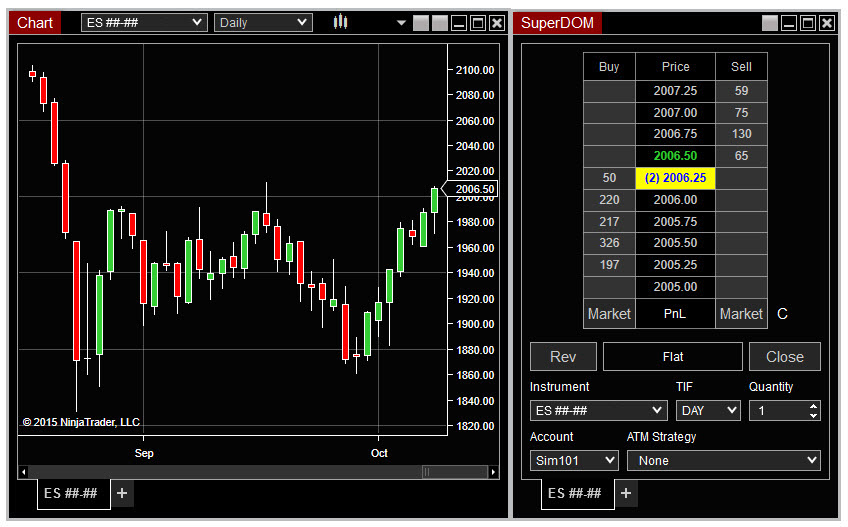 New Trading Hours
Formerly named the "Session Manager", our new Trading Hours window was designed for easier management of the templates used for charting, indicator calculations, real-time strategy execution, and strategy backtesting periods. Each session now has an "EOD" (End of Day) option to support multiple trading session definitions within a single day. We also added Holiday support to handle various scheduled breaks in exchange hours (Early Close, Late Open, or Full Day Holiday).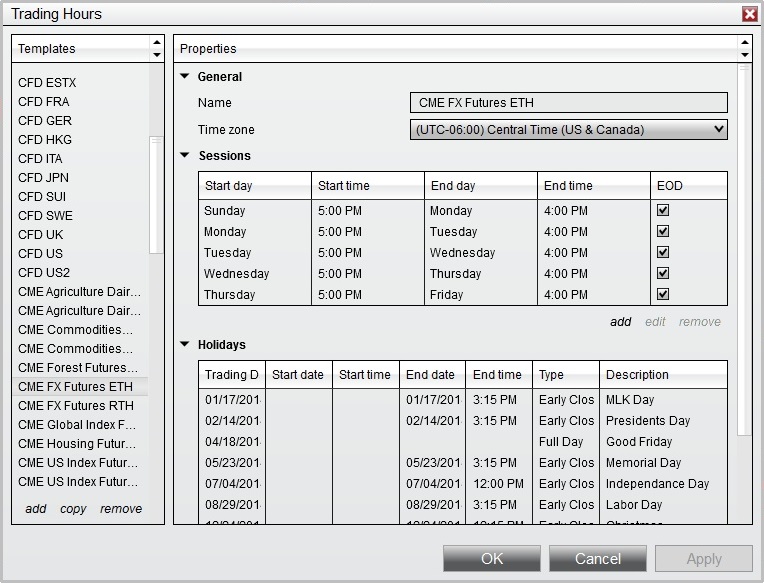 Sessions and Holidays can now be downloaded and updated from NinjaTrader servers, providing the ability for exchange mandated changes to be pushed to all users, rather than needing to reconfigure these updates individually.
Changes to Managing Workspaces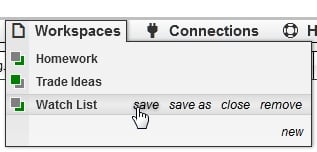 The Workspaces menu has been integrated directly into Control Center toolbar for faster switching and workspace management. Inactive workspaces are visible from the Workspaces menu for a more functional approach to workspace organization. All windows opened outside of the viewable range of a monitor can be moved back in view of the primary screen with a single click.
New Feature to Apply an ATM Strategy to an Unprotected Position
From the Positions grid, you can now apply an ATM Strategy to an open unprotected position. This allows you to add a layer of semi-automated risk management to a position after it has been filled.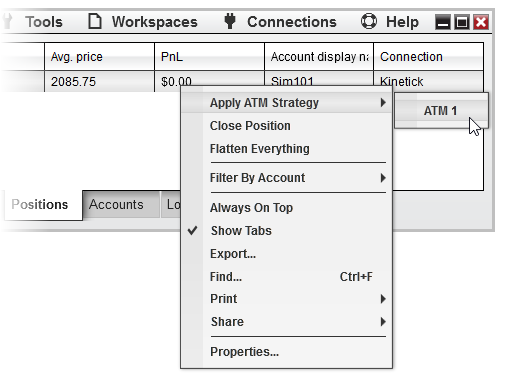 Improved Instrument Linking
•Added "Link All Mode" to group changes to specific window
•New "Interval Link" which allows for simultaneous changing time frames on charts
•Added "Global Link button across workspaces" allowing users to keep instruments in separate workspaces unlinked if desired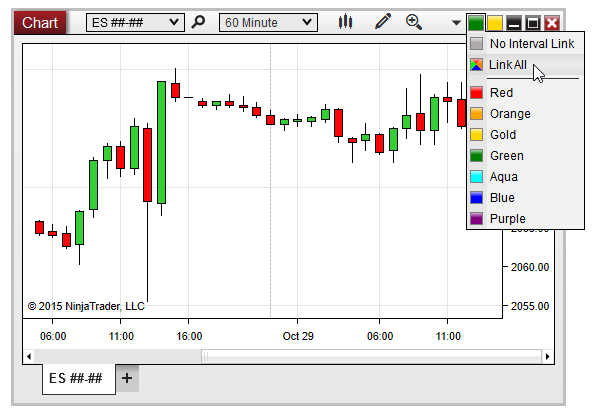 Miscellaneous Enhancements
•Added support for CFD's as a new Asset type available for supported brokerage technologies (FXCM, Interactive Brokers as of this writing)
•Improvements regarding window sizing. Now all non-modal windows are resizable to user preferences
•Added support for Market-if-Touched (MIT) orders, which can be used as entries or as Profit Targets in ATM Strategies