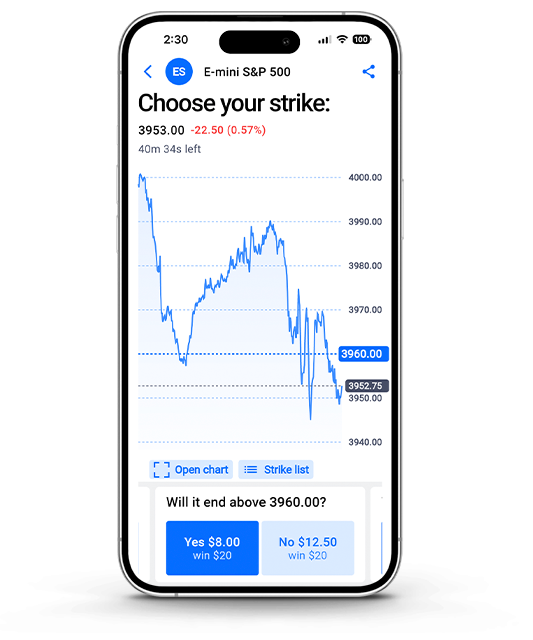 Welcome to a Brand New Way to Play Daily Market Action
Place predictions on the top markets and profit when you are right. Event contracts from CME Group deliver a simple way to stake your views on market price moves.
Open Account
What is an Event Contract? Everything You Want to Know.
Predict. Play. Win. Event contracts provide a new way to participate in the financial markets. Choose a market (predict the closing price for metals, energy, equities, and more) and decide if it will close above or below a certain price. It's that simple.
Through our partnership with Tradovate, you can now trade event contracts using your NinjaTrader Brokerage account in a dedicated mobile experience.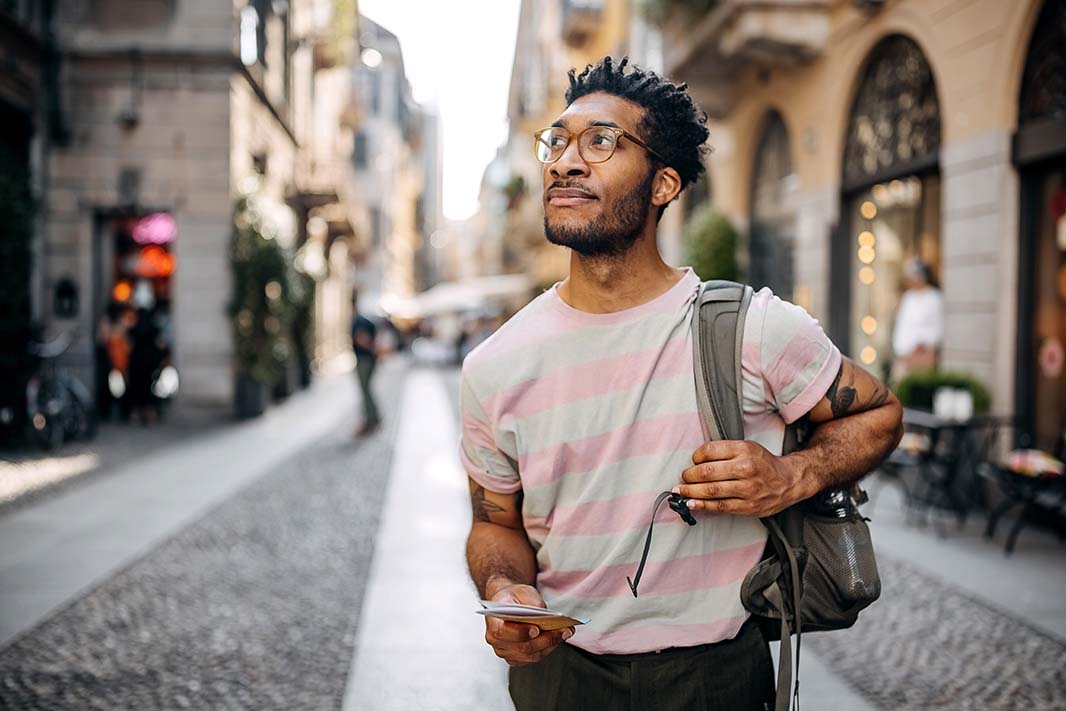 How Do Event Contracts Work?
Predict the daily closing price of some of the world's most popular markets like S&P, Nasdaq, Dow, metals, energies, and currencies.
It's simple and intuitive. Pick the price you think the market will close at. If you predict correctly, you earn $20, never risking more than the price you paid.*
You can predict top 10 markets, including E-mini S&P, E-mini Nasdaq, E-mini Russell 2000, E-mini Dow, WTI Crude Oil, Natural Gas, EUR/USD, Gold, Silver, and Copper.
Win $20 when you predict correctly with your risk limited to the amount of your bid.**
Get Started with Event Contracts Today
Make your first prediction. Choose a market and decide if it will close above or below a certain price. Check out our quick video guide demonstrating how to get started and make your first prediction.
Frequently Asked Questions
When you make your prediction, you are taking a position knowing what your max profit or loss could be at expiration. The price you pay per contract is the most you can lose per contract and will be displayed upfront (as will the max profit you can earn if correct).

A NFA fee of $0.02 and an order routing fee of $0.15 per contract will apply to all predictions. Fees subject to change.
All times are in Central Time (CT) and Event contracts trade Sunday through Friday
If you predict the price movement correctly, you will receive $20 per contract traded.**
Yes, you can trade multiple contracts if you would like to elevate the stakes. Event contracts are listed for a single business day and expire that day. There will be a fixed payout of $20 if the contract finishes in-the-money.
A strike is a price level that may be above or below the current market price. Pick a level (strike), then decide if the market will close above or below that level.
At this time, event contracts can only be traded using a NinjaTrader brokerage account through the dedicated mobile experience available through Tradovate.
Funds can be withdrawn from your NinjaTrader Brokerage account at any time through your account dashboard.
You are trading using the NinjaTrader account associated to the username and password used during login to the mobile trading application.
Event contracts are provided by CME Group, one of the world's leading exchanges, and offered by a regulated U.S. broker.
*Program Requirements
The event contract prediction must be placed prior to May 1, 2023, to be eligible for the introductory promotional credit. A $20 promotional credit will be applied to each qualifying account in May 2023. Transactional fees where applicable will still apply. This promotional offer is available for both new and existing funded individual accounts. IRA and professional accounts are not eligible for this offer. Program requirements are subject to change.
**Event Contract Transaction Fees
A NFA fee of $0.02 and clearing fee of $0.15 per contract will apply to all predictions. Fees subject to change.