Traders looking to expand their market opportunities can also gain some key insights into how volatility responds and interacts with major market price action by adding SPIKES® volatility futures to their trading portfolio.
What are SPIKES Futures?
SPIKES futures (SPK) are a measure of the 30-day forward expected volatility of the S&P 500 index. Based on the SPIKES volatility index which is built on the SPDR® S&P 500 ETF (SPY), these contracts allow futures traders to speculate directly on the fluctuations of volatility. Offered by Minneapolis Grain Exchange (MGEX) and powered by MIAX , you can now trade SPIKES futures through NinjaTrader Brokerage.

Let's explore the concept of volatility along with the features and benefits of trading SPIKES futures.
What are Two Key Types of Market Volatility?
Volatility is a way to quantify the price variability of a market and is often used as a way to help traders gauge risk. A market that is considered volatile is generally experiencing wide price fluctuations up and down over a shorter period of time. Volatility can be calculated using two different concepts and methods:
Historical Volatility is a trading term that can describe the magnitude of historical price movement over a period of time using a standard deviation calculation. Traders can also use indicators like 'Average True Range' or 'Bollinger Bands' to visualize volatility in a price chart. This type of volatility can show us significant price movements in the past, and how current volatility compares to historical values.
Implied Volatility is a measurement of volatility implied by the options prices for an underlying market. This type of volatility is forward looking as the options prices are set by the market makers on the options exchanges, and these market makers are setting options prices to manage their risk in real time. Implied volatility is a way to gauge what these options market makers are thinking in regard to market direction and stability. SPIKES futures are constructed based on this implied volatility concept.
Example of Opportunity through SPIKE Futures
With MGEX SPIKES futures now available through NinjaTrader Brokerage, traders have the ability to speculate on the rise and fall of volatility directly. In addition, trading volatility with SPIKE futures can be an efficient way to hedge a long-term futures position or stock portfolio against the S&P 500 Index market volatility.

As the implied volatility index data is oppositely correlated to the S&P 500 Index, (Figure 1) traders who feel the S&P 500 index is due for a move down can use SPIKES futures to go long and benefit from the increase in volatility. Conversely if volatility is stretched too high and a trader feels the S&P 500 index is about to rally higher, a trader can take a short position in SPIKES and benefit from the potential decrease in volatility. In figure one below, notice that peak highs and peak lows generally occur within a few bars of each other and that price trends after key high and low peaks are generally oppositely correlated.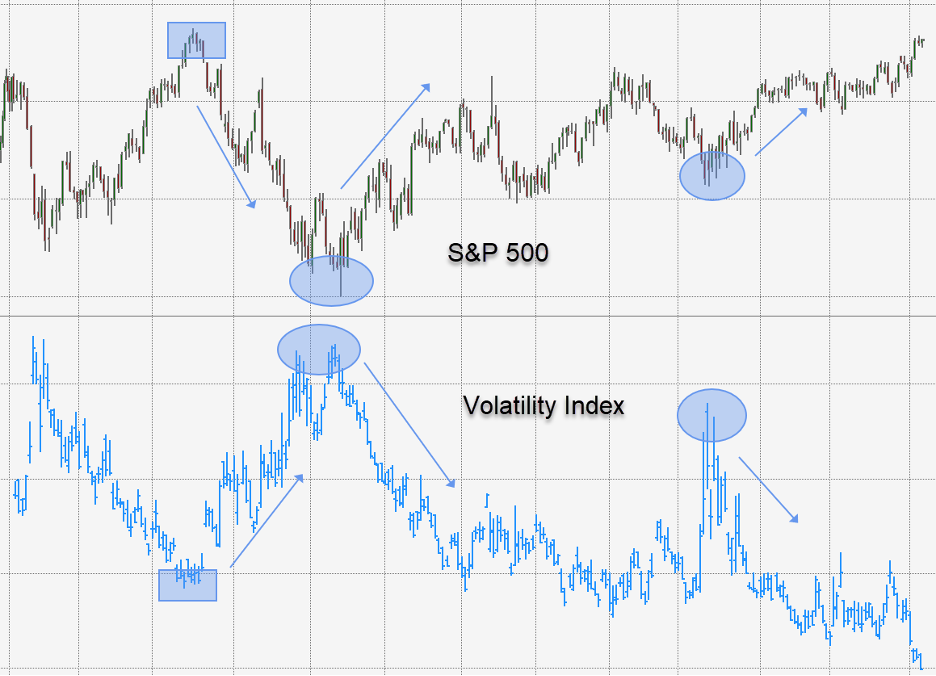 Figure 1: Showing the opposite correlation between the SPIKES volatility index to the S&P 500 index.
Unique Benefits Available through SPIKES Futures
The SPIKES futures offer some key features that provide a high degree of accuracy and stability over similar products.
The options prices applied to the calculations are collected from the various US options exchanges, ensuring no single point of failure can bring down the system.
The calculation prioritizes actual trades over quotes in order to better insulate the SPIKES bid-ask spread from erratic fluctuations.
The SPIKES future is built using the popular variance swap methodology and is calculated every 100 milliseconds for timely accurate market interpretation.
How do SPIKES and the VIX Vary?
The SPIKES volatility index was specifically designed to mitigate some of the limitations of CBOE VIX. While both are a measure of 30-day expected volatility of the S&P 500, one of the most notable differences is SPIKES use the SPY (ETF) options rather than SPX options. SPY options are the most actively traded exchange-traded fund (ETF) in the world, with strong liquidity and potentially smaller spreads. While VIX uses only the more expensive CBOE European style SPX options, often with larger bid-ask spreads.

SPIKES are traded via the CME Globex® platform on the Minneapolis Grain Exchange (MGEX) which has been an essential part of the Futures trading industry offering clearing and futures trading for over 140 years.

Contract Specifications:
SPIKES Volatility Index Future (SPK)
Contract Point Value: $1,000
Minimum Price Fluctuation: .05, (1000 * .05 = $50.00 per-contract per-minimum move).
Trading Hours: Sunday – Friday: 6:00p.m. ET – 5:00p.m. ET.
Listed Contracts: Monthly – 6 nearest contracts.
Expiration Style: Trading ceases on the morning of the Wednesday 30 days prior to the third Friday of following contract month.
Settlement: Financially Settled.

See all the SPIKES futures contract specifications here.
Get Started Trading SPIKES with NinjaTrader
With the potential for significant intraday swings up in volatility,
SPIKES futures
can offer a unique adrenaline-pumping trading experience like no other. Trading SPIKES requires traders to be keenly focused and employ strict risk management to every trade. Whether you're looking to hedge against market volatility or are looking to take on a new trading challenge, SPIKES can be an exciting new way to explore the markets and expand your trading opportunities.
NinjaTrader supports more than 800,000 traders worldwide with a powerful and user-friendly trading platform, discount futures brokerage and world-class support. NinjaTrader is always free to use for
advanced charting
and strategy backtesting through an immersive
trading simulator
.
Download NinjaTrader's award-winning
trading platform
and get started with a free trading demo with real-time market data today!